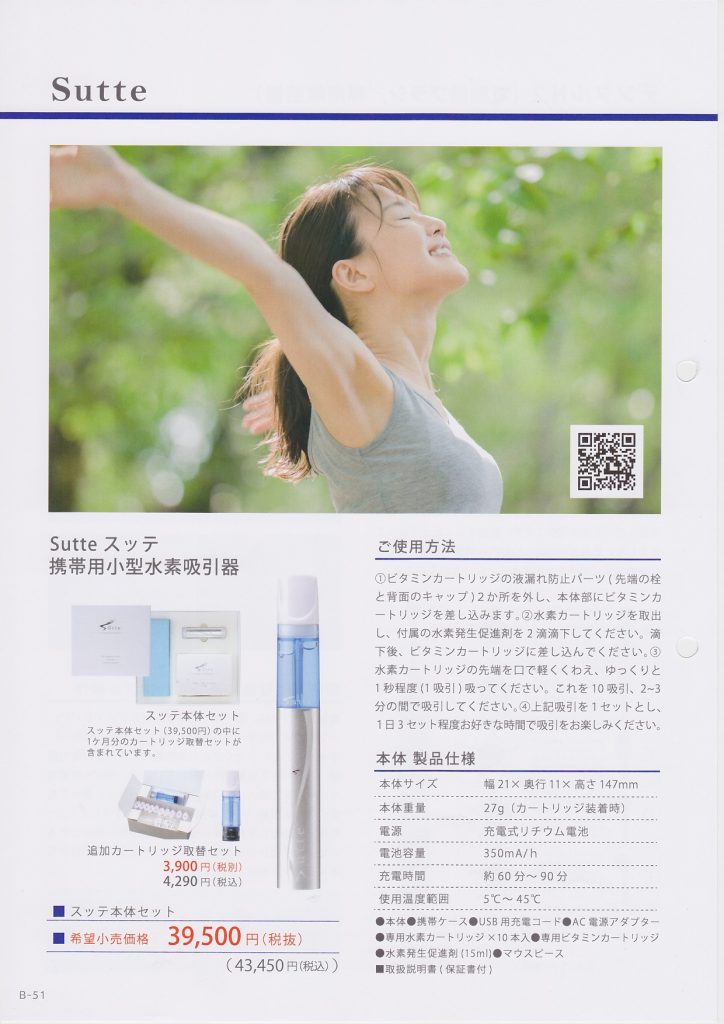 Sutte
Sutte portable small hydrogen suction device
How to use
(1) Remove the two parts of the vitamin cartridge that prevent leakage (the plug at the tip and the cap at the back) and insert the vitamin cartridge into the main unit.
(2) Take out the hydrogen cartridge and drop two drops of the attached hydrogen generation accelerator. After dripping, insert it into the vitamin cartridge.
③ Gently hold the tip of the hydrogen cartridge with your mouth, and suck slowly for about 1 second (1 suction). Aspirate this for 10 minutes, between 2 and 3 minutes.
◎ Make one set of the above suction and enjoy suction at your favorite time about 3 sets a day.
Main unit Product specifications
Body size      21 x 11 x 147 mm
Main unit      weight 27g (with cartridge installed)
Power supply    Rechargeable lithium battery
Battery capacity  350mA / h
Charging time   60 to 90 minutes
Operating temperature range  5 to 45 ° C
■ Sutte body set ■ Suggested retail price 39,500 yen (excluding tax)
(43,450 yen (tax included))
● Body ● Mobile case ● USB charging cord ● AC power adapter ● Exclusive hydrogen cartridge × 10 pieces ● Exclusive vitamin cartridge ● Hydrogen generation promoter (15ml) ● Mouthpiece ■ Instruction manual (with warranty)
Additional cartridge replacement set
3,900 yen (tax not included) 4,290 yen (tax included)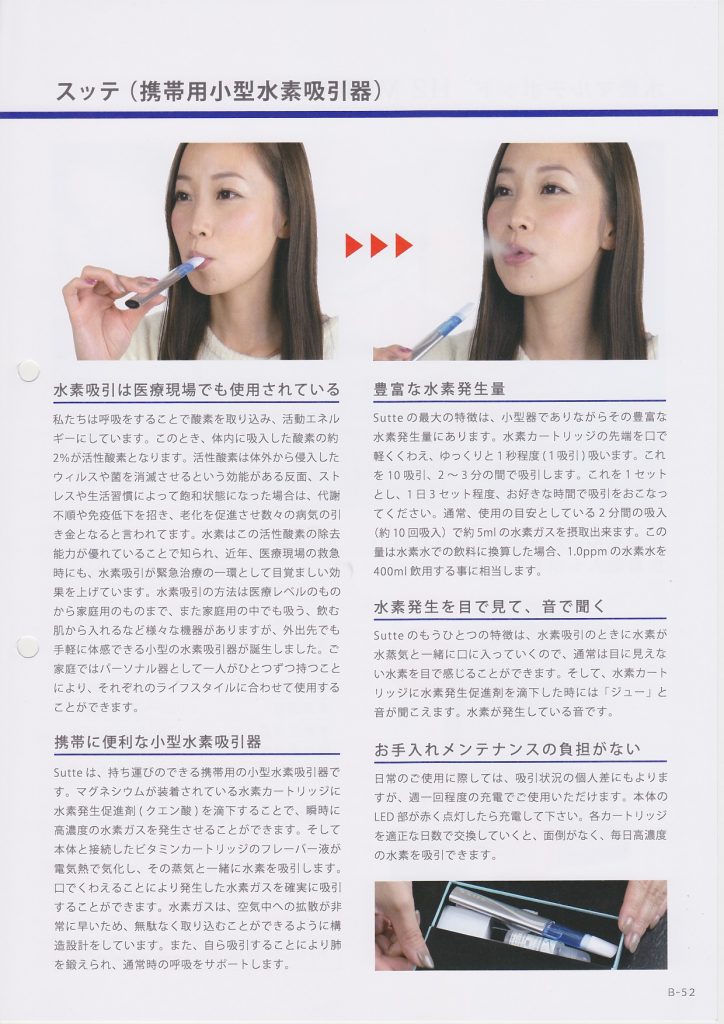 Sutte (portable small hydrogen suction unit)
Hydrogen suction is also used in medical settings
We take in oxygen by breathing and make it an activity energy. At this time, about 2% of the oxygen inhaled into the body becomes active oxygen. Reactive oxygen has the effect of extinguishing viruses and bacteria that have entered from outside the body.However, if it becomes saturated due to stress or lifestyle, it causes metabolic irregularities and reduced immunity, promotes aging, and leads to various diseases. It is said that it becomes money. Hydrogen is known for its ability to scavenge active oxygen, and in recent years, hydrogen aspiration has become a remarkable effect as part of emergency treatment even in emergency situations at medical settings. There are various types of hydrogen suction methods, from the medical level to those for home use, and even at home, there are various devices such as sucking and drinking from the skin, but a small hydrogen suction device that can be easily sensed on the go is born. did. In this home, each person can have one personal device that can be used according to their lifestyle.
Compact hydrogen suction device that is easy to carry
Sutte is a small portable hydrogen suction device that is portable. By dropping a hydrogen generation accelerator (citric acid) onto a hydrogen cartridge equipped with magnesium, high-concentration hydrogen gas can be generated instantaneously. The flavor liquid of the vitamin cartridge connected to the main unit is vaporized by electric heat, and hydrogen is sucked together with the vapor. Hydrogen gas generated by mouth can be sucked in reliably. Hydrogen gas diffuses into the air very quickly, so its structure is designed so that it can be taken in without waste. In addition, the lungs are strengthened by inhaling themselves, supporting normal breathing.
Abundant hydrogen generation
The biggest feature of Sutte is its large amount of hydrogen generation despite its small size. Hold the tip of the hydrogen cartridge gently with your mouth, and suck slowly for about 1 second (1 suction). Aspirate this for 10 minutes, 2 to 3 minutes. Use this as one set, and aspirate about three sets a day at your desired time. You can inhale about 5ml of hydrogen gas by inhaling for 2 minutes (about 10 inhalations), which is a standard for normal use. This amount is equivalent to drinking 400 ml of 1.0 ppm hydrogen water when converted to a drink using hydrogen water.
Visualize and hear the hydrogen generation
Another feature of Sutte is that when hydrogen is sucked in, hydrogen enters the mouth with the water vapor, so you can feel hydrogen that is normally invisible. And when the hydrogen generation accelerator is dropped on the hydrogen cartridge, you will hear a squeal. This is the sound of hydrogen being generated.
No burden of maintenance
In daily use, it can be used once a week, depending on individual differences in suction conditions. Charge the battery when the LED on the main unit lights up in red. If each cartridge is replaced in a proper number of days, high concentration hydrogen can be aspirated every day without any hassle.


For general customers, click here.
For DealShaker, please purchase from DealShaker platform.
一般のお客様はこちらから
 DealShakerの方はDealShakerプラットホームから購入して下さい。